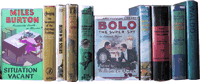 We are always looking to purchase good quality books and are prepared to travel to view fine book collections.
Telephone 01403 266165 or Contact Us
We are particularly interested in the following:
- Books Wanted
Antiquarian and early printed works
Sets of books finely bound in leather
Early printed bibles and later Victorian leather-bound family type bibles
Collectable children's and illustrated books
Pre-1970 hardback fiction in dust jackets by popular authors
Modern First Editions
Motoring - Aviation - Military - Railway – Maritime

Fishing - Sports - Topography - History - Natural History - Travel
All manner of fine libraries and quality collections of books on interesting subjects
- Ephemera Wanted
Interesting printed ephemera
Handwritten and illuminated manuscripts
Signed items: books, letters, manuscripts, photographs etc...
Postcards and Cigarette cards
Antiquarian maps and prints
Original illustrations and artwork


Horsham - We are always interested in any articles related to Horsham: books, ephemera, pictures, crested china etc…
- Bookbinders and Restorers Required

Are you a professional bookbinder and restorer of antiquarian books working in the vicinity of Sussex and Surrey? If yes, we would like to hear from you. We are always looking for competent binders and restorers who can undertake repairs and re-binding for us.
Call us now on 01403 266165 or Contact Us